Who we are
At Casa Albina, Barbara and Christian Andreani offer you tourist accommodation full of character and a tailor-made welcome in their gites and house with bed and breakfast.
Casa Albina lies in the heart of the countryside surrounded by undulating chalk hills at the edge of Patrimonio, one of the most winemaking areas in Corsica, five minutes drive to the beach and Saint-Florent.
Situated in the Gulf of Saint-Florent, Patrimonio is an ideal location for exploring the northern part of Corsica. Roads lead to La Balagne, Le Centre, Cap Corse and Le Nebbio, so Calvi, Corte, the far end of the Cap and La Castaniccia are all only 1&1/2 hours drive away.

The domain, two and a half acres of private parkland where numerous species of plants and trees abundantly offer perfumes and visual delights indigenous to the Mediterranean, is bordered in the east by a small river. A few strides away stands the Genoes stone gridge which marks the starting point of the historical pathway leading to the monastery San Francescu di Marianda.
Five independent apartments housed in a renovated farm building plus the owner's house are located in the grounds.
Read More
Video of the month
La 11ème édition du festival d'automne de la ruralité, s'est tenue du 28 septembre au 1er décembre dernier. Une étape nouvelle pour ce rendez-vous incontournable de l'automne qui prend de l'ampleur et étend son maillage à travers l'île, notamment en Balagne, en Castagniccia et dans l'extrême-sud. En préfiguration d'A Via San Martinu, l'itinéraire culturel du Conseil de l'Europe, Le festival est axé sur la valorisation des patrimoines matériels et immatériels et propose des animations, des conférences, des visites guidées, des itinéraires de découverte, des stages et concerts de musique du monde...
See More
The accommodation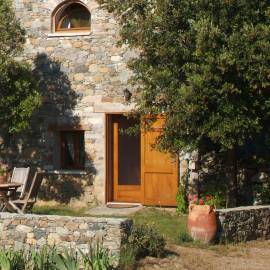 Ponente House ***
Taste the calm of this house open on nature

Ponente House (no 56063) 3 épis GDF, Nepeta separate room with suite.
Calm lodge 4 rooms, two floors 71m2 + 2 bathrooms for 6 people.
A lodge of character built from stone and wood with cast iron features, surrounded by gardens. located at the west end of a large renovated farm building in the middle of the countryside.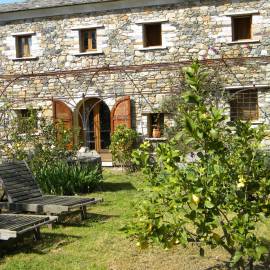 Regina Lodge ***
Bask in the sun on your terrace opening on the garden

Regina Lodge (no 56062) 3 épis GDF
Calm lodge with 4 rooms + bathroom, 2 floors, 50 sqm. For 5 people.
Lodge of character built from stone and wood with cast iron features.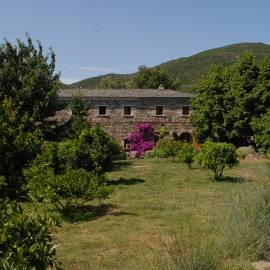 Levente Lodge ***
Enjoy the garden and the orchard from your terrace

Levente Lodge (no 56061) 3 épis GDF
Charming and typical lodge (F2).
2 ground floor rooms 39 sqm + 1 bathroom for 2 people, quiet, authentic stone and wood building with cast iron features.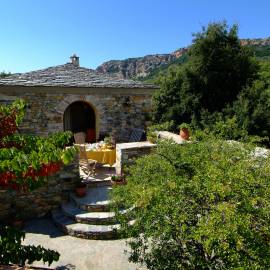 Acetula Lodge ***
Enjoy your breakfast deep in the heart of nature

Acetula lodge (no. 56065) 3 épis GDF
Charming lodge with 2 rooms 34 sqm + 1 bathroom, for 2 people.
A stone and wood construction with cast iron features, located at the end of a large farm building.