Pour votre information sanitaire à ce jour :
Les unités de location du domaine Casa Albina sont complètement indépendantes. Le ménage habituellement minutieux est  fini à l'alcool ménager, par pure précaution sanitaires (éléments de cuisine, sols et poignées de portes comprises). Le linge est lavé à 65°C et 90°C, au savon de Marseille et per-carbonate, puis rincé au vinaigre et huiles essentielles.
Pour voyager en avion, par bateau, un Pass/Covid, est obligatoire pour tous les passagers à partir de 12 ans.
Il vous sera demandé d'avoir réalisé à votre départ pour la Corse ainsi qu'à votre retour :
- Soit un test RT- PCR , moins de 72 h, ou un test antigénique 48h avant votre départ (auto-test non valable);
- Soit un justificatif de son statut vaccinal (schéma complet);
- Soit un certificat d'immunité pour les personnes qui ont déjà contracté le COVID. Cette preuve consiste en un résultat positif du dépistage RT-PCR réalisé plus de 11  jours et moins de 6 mois avant le voyage (il s'agit du résultat du test que vous aviez réalisé au moment où vous avez déclaré la maladie).
Assurance annulation de Casa Albina Corsica,"TOP Cover Location" :
Louez en toute sérénité dès votre confirmation, en souscrivant à l'assurance TOP Cover Location. Cette assurance annulation couvre les cas d'impossibilité de vous rendre en Corse pour toutes causes, imprévues et justifiées d'annulation de votre location : mécanique, accident, décès dans la famille,  sanitaires (lié au COVID compris, nouvelle épidémie, pandémie...)
Vous pouvez adhérer si vous le souhaitez à raison de 7% de la totalité des sommes dues de votre contrat initial, (taxes et suppléments compris) et pour tous les contrats finalisés à plus de 15 jours du départ.
En cas de sinistre toutes les sommes réglées, pourront vous être remboursées, (moins la franchise en moyenne de 50 €).
TOP Cover, prend effet dès réception de la première somme reçue l'incluant; confirmée par une attestation d'assurance qui vous sera envoyée par mail. Elle concerne, toutes les sommes réglées, stipulées dans votre contrat de location et ce, jusqu'à la date de départ de votre résidence de vacance.
Vous pouvez refuser cette garantie, dans ce cas les conditions d'annulation habituelles s'appliqueront.
Consultez les clauses de l'assurance TOP Cover Location :
https://documentcloud.adobe.com/link/review?uri=urn:aaid:scds:US:6df108c8-731f-4654-9b48-54a5874506d4
https://documentcloud.adobe.com/link/review?uri=urn:aaid:scds:US:8f109e8c-1bf5-44b0-83c7-ad8167f10bd0
Who we are
At Casa Albina, Barbara and Christian Andreani offer you tourist accommodation full of character and a tailor-made welcome in their gites and house with bed and breakfast.
Casa Albina lies in the heart of the countryside surrounded by undulating chalk hills at the edge of Patrimonio, one of the most winemaking areas in Corsica, five minutes drive to the beach and Saint-Florent.
Situated in the Gulf of Saint-Florent, Patrimonio is an ideal location for exploring the northern part of Corsica. Roads lead to La Balagne, Le Centre, Cap Corse and Le Nebbio, so Calvi, Corte, the far end of the Cap and La Castaniccia are all only 1&1/2 hours drive away.

The domain, two and a half acres of private parkland where numerous species of plants and trees abundantly offer perfumes and visual delights indigenous to the Mediterranean, is bordered in the east by a small river. A few strides away stands the Genoes stone gridge which marks the starting point of the historical pathway leading to the monastery San Francescu di Marianda.
Five independent apartments housed in a renovated farm building plus the owner's house are located in the grounds.
Read More
Video of the month
La 11ème édition du festival d'automne de la ruralité, s'est tenue du 28 septembre au 1er décembre dernier. Une étape nouvelle pour ce rendez-vous incontournable de l'automne qui prend de l'ampleur et étend son maillage à travers l'île, notamment en Balagne, en Castagniccia et dans l'extrême-sud. En préfiguration d'A Via San Martinu, l'itinéraire culturel du Conseil de l'Europe, Le festival est axé sur la valorisation des patrimoines matériels et immatériels et propose des animations, des conférences, des visites guidées, des itinéraires de découverte, des stages et concerts de musique du monde...
See More
The accommodation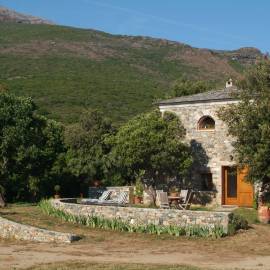 Green house Ponente T3/4 ***
Green house Ponente T3/4 ***
Taste the calm of this house open on nature

Ponente House (no 56063) 3 épis GDF, Nepeta separate room with suite.
Calm lodge 4 rooms, two floors 71m2 + 2 bathrooms for 6 people.
A lodge of character built from stone and wood with cast iron features, surrounded by gardens. located at the west end of a large renovated farm building in the middle of the countryside.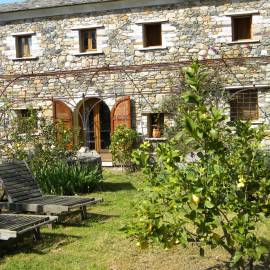 Green lodge Regina T4 ***
Green lodge Regina T4 ***
Bask in the sun on your terrace opening on the garden

Regina Lodge (no 56062) 3 épis GDF
Calm lodge with 4 rooms + bathroom, 2 floors, 50 sqm. For 5 people.
Lodge of character built from stone and wood with cast iron features.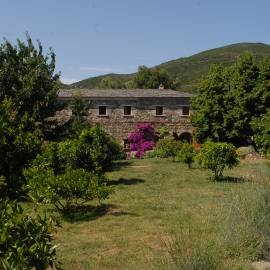 Green lodge Levente T2 ***
Green lodge Levente T2 ***
Enjoy the garden and the orchard from your terrace

Levente Lodge (no 56061) 3 épis GDF
Charming and typical lodge (F2).
2 ground floor rooms 39 sqm + 1 bathroom for 2 people, quiet, authentic stone and wood building with cast iron features.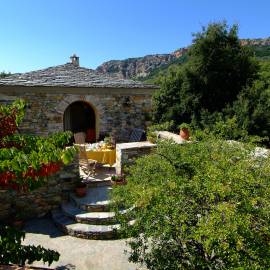 Green lodge Acetula T2 ***
Green lodge Acetula T2 ***
Enjoy your breakfast deep in the heart of nature

Acetula lodge (no. 56065) 3 épis GDF
Charming lodge with 2 rooms 34 sqm + 1 bathroom, for 2 people.
A stone and wood construction with cast iron features, located at the end of a large farm building.