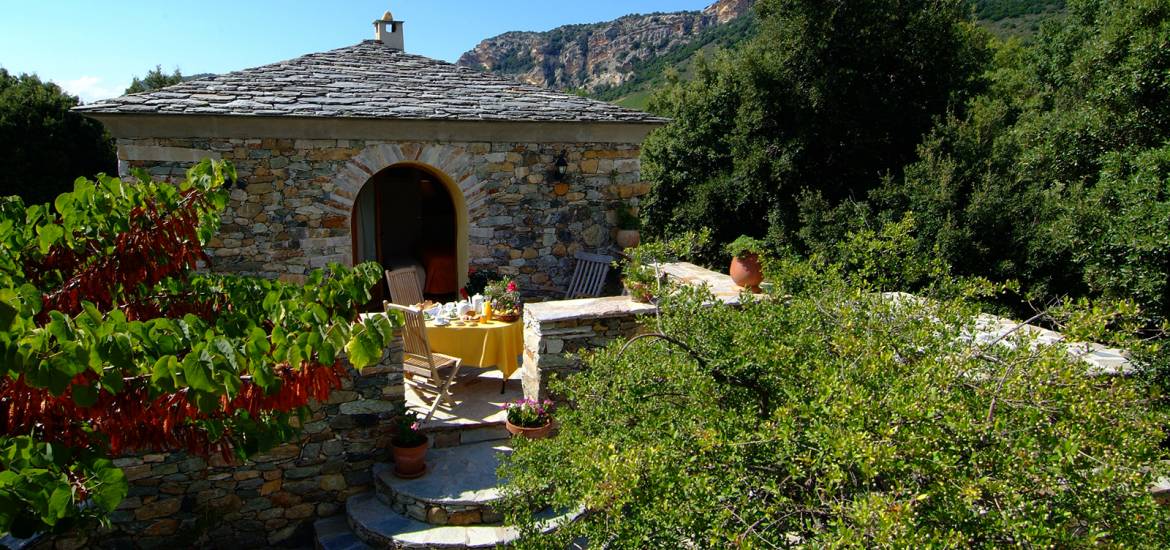 Enjoy your breakfast deep in the heart of nature
Acetula lodge (no. 56065) 3 épis GDFR - Charming lodge with 2 rooms 34 sqm + 1 bathroom, for 2 people. A stone and wood construction with cast iron features, located at the end of a large farm building.
Information and reservation request
Housing fact sheet of Acetula T2 3 épis - Green lodge for 2 persons
Details : 
- Fitted kitchen corner with hob, hoven, dishwasher, washing-machine, fridge-freezer, microwave; 
- Dining/living-room area; 
- Bedroom with a 140 cm bed; 
- Bathroom-toilet;
- Four windows with scenic views and a main semi-circular glass entrance, door leading to a 15 sqm private courtyard, surrounded by a dry stone wall, looking out onto the garden and orchard.
- Equipped with a pergola, an eating corner, sun lounger and teak garden furniture.
Cots are available.
Convenient shaded parking place.
Play area for children and for relaxing within the Casa Albina Domain.
TOUTE DEMANDE DE LOCATION SERA EN PREMIER LIEU PRÉCÉDÉE PAR UN MAIL DE CONFIRMATION DE DISPONIBILITÉ.

 - Location a la semaine et au mois :
Les demandes de réservation téléphoniques à Casa Albina Corsica devront être confirmées par l'envoi de la fiche de réservation dûement remplie. A réception par mail de la demande de reservation, vous recevrez en retour, un contrat de location à retourner accompagné d'un accompte de 25% la semaine qui suit.
Aucun supplément ne sera compté pour les enfants de moins de 3 ans.
L'occupation de logements est prévue du jour d'arrivée à 16 heures jusqu'au jour du départ à 10 heures.
Le locataire doit rendre le gîte aussi propre et rangé qu'il l'était à l'arrivée.
Les autres conditions sont précisées dans le contrat de réservation.
 
- Location Week-end ou 2 nuits : 
Tous les hébergements louables en séjour détente sont accessibles à partir de 2 nuits minimum. Le prix de la nuit supplémentaire est calculé au pro-rata temporis du tarif de la semaine, à partir de la troisième nuit.
Location du premier jour 14h au troisième jour 12h. Sont compris dans les tarifs : le chauffage et le ménage de fin de séjour (le locataire devant rendre le gîte en ordre, vaisselle propre).

Pour un séjour à thème ou pour privatiser l' intégralité du domaine de Casa Albina nous contacter au : 06 98 33 00 57.
Acetula Lodge 56065 - T2 3 épis GDFR - 2 persons
Lovely season 1
2/01/21 - 9/04/21
Spring season
10/04/21 - 2/07/21
Summer season 1
3/07/21 - 30/07/21
Zenith
31/07/21 - 27/08/21
Summer season 2
28/08/21 - 24/09/21
Fall season
25/09/21 - 12/11/21
Lovely season 2
13/11/21 - 1/01/22
Availability
Reservation
Week
406€
525€
798€
896€
798€
525€
406€
BookResa
06 98 33 00 57
Form
Extra night
58€
75€
114€
128€
114€
75€
58€
BookResa
06 98 33 00 57
Form
Weekend or 2 nights
165€
210€
319€
360€
319€
210€
165€
BookResa
06 98 33 00 57
Form
Month
1500€
06 98 33 00 57
06 98 33 00 57
06 98 33 00 57
06 98 33 00 57
06 98 33 00 57
1500€
 
 
Accommodations belonging to the Casa Albina estate - To rent the whole estate